HOME | UPDATES | JOIN | MEMBERS | LINKS
Welcome at WetClothingGirls!
The source for real wetlook since 2003! We update every other week with a new set pictures and/or video.
You will find great sets of girls in fully clothed wetlook. They are wearing formal clothes, casual outfits, wet jeans, etc.
We have single girls in swimmingpool, shower or lake, but also groups of girls and friends or sisters posing together.
This makes WetClothingGirls a unique site with something for everybody! If you like wet clothes to emphasize the beauty of a girl, you will love this site! We hope you enjoy your stay, we will post an update nearly every week and if you have requests you can let us know! Enjoy the beauty of water!
---
This weeks update:
Cute, blond, and a little bit chubby... Iris is wearing black pants and shoes,
and a blue jacket over a black shirt which she takes off near the end.


(also available as pay-per-download at www.wetlookstore.com)
Kristine in a denim jeans with flares, short red leather boots which she takes off to
play with and a Dolce & Gabbana shirt under a cotton jacket.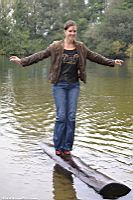 (also available as pay-per-download at www.wetlookstore.com)
Movie of hot latina Bruna, she is wearing hotpants and a great blouse which she all gets totally wet!


(also available as pay-per-download at www.wetlookstore.com)

Indian Sarah on pumps, tight jeans and a brown sleeveless shirt, with great long hair and glasses.
She takes a shower to get all her clothes soaking wet.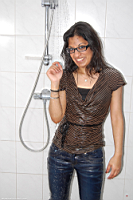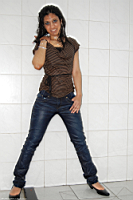 Movie of blond and cute Rebecca, wearing a formal red dress.
Half of this movie is about her getting wet, the other half is her goofing around with her funny friend Emma,
who filmed the first part, doing some dancing on the beach in her wet clothes, laughing, chatting...

Danique is such a cute girl in her straight jeans and plain gray shirt.
She has a lot of fun getting wet, with great, very long hair!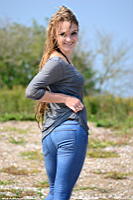 (also available as pay-per-download at www.wetlookstore.com)


---